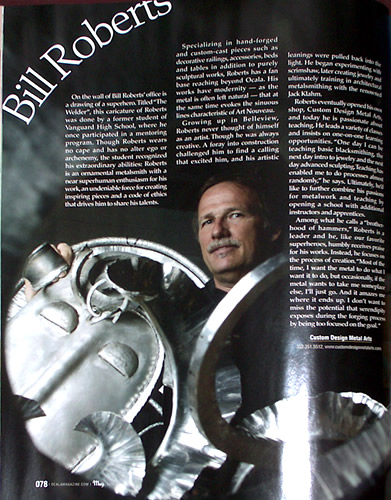 Ocala Magazine: "Homeworks"
~ Article featuring local artists.
Marion County's wealth of artisans create works combining aesthetics and practicality. BILL ROBERTS - On the wall of Bill Roberts' office is a drawing of a superhero. Titled "The Welder", this caricature of Roberts was done by a former student of Vanguard High School, where he once participated in a mentoring program. Though Roberts wears no cape and has no alter ego or archenemy, the student recognized his extraordinary abilities: Roberts is an ornamental metalsmith with a near superhuman enthusiasm for his work, an undeniable force for creating inspiring pieces and a code of ethics that drives him to share his talents. Specializing in hand-forged and custom-cast pieces such as decorative railings, accessories, beds and tables in addition to purely sculptural works, Roberts has a fan base reaching beyond Ocala. His works have modernity - as the metal is often left natural - that at the same time evokes the sinuous lines characteristic of Art Nouveau. Growing up in Belleview, Roberts never thought of himself as an artist. Though he was always creative. A foray into construction challenged him to find a calling that excited him, and his artistic leanings were pulled back into the light. He began experimenting with scrimshaw, later creating jewelry and ultimately training in architectural metalsmithing with the renowned Jack Klahm. Roberts eventually opened his own shop, Custom Design Metal Arts, and today he is passionate about teaching. He leads a variety of classes and insists on one-on-one learning opportunities. "One day I can be teaching basic blacksmithing, the next day intro to jewelry and the next day advanced sculpting. Teaching has enabled me to do processes almost randomly," he says. Ultimately, he'd like to further combine his passions for metalwork and teaching by opening a school with additional instructors and apprentices. Among what he calls a "brother-hood of hammers," Roberts is a leader and he, like our favorite superheroes, humbly receives praise for his works. Instead, he focuses on the process of creation. "Most of the time, I want the metal to do what I want it to do, but occasionally, if the metal wants to take me someplace else, I'll just go. And it amazes me where it ends up. I don't want to miss the potential that serendipity exposes during the forging process by being too focused on the goal. "Custom Design Metal Arts 352.351.5512, www.customdesignmetalarts.com .