In this section I'll show you some samples of railings that I've had the pleasure of working on. These samples are to give you some insight into what is possible, and for inspiration. All of the metalwork is site specific, and designed to compliment and enhance the surroundings. Many large jobs are the results of a "team" of skilled craftsmen. And I'll acknowledge them on each project.

In this railing project, my contribution was forging and fabricating the decorative inserts (scrolls etc.) and the manipulation of the organic elements on the bottom of each vertical element. Those organic elements were forged by Richard Chandler. The design was inspired by an image in one of the classic "design" books and altered by Alex Klahm.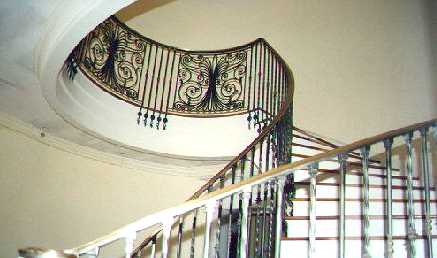 Heavy forged elements. Forged and fabricated in mild steel.
[ First ] [ Prev ] [ Next ] [ Last ]
Home

The Artist

Media

Sculptures

Furniture

Tables

Fireplace Tools & Accessories

Lighting
Mirrors

Entries

Railing

Fencing

Jewelry

Gold Leafing

Processes

Designs

Videos
Classes & Workshops

Students Work

Metalsmithing Links

Reciprocal Links

Link to Us

Copyright & Privacy Policy


GuestBook

Commissions

Contact the Artist

My Ebay Store

Etsy Store


railing, custom, design, metal, arts, bill roberts, bill, roberts, metalsmith, metalsmithing, sculptor, blacksmithing, blacksmith, forge, shop, artist, furniture, lighting, sculpture, mirror, garden sculpture, metal sculpture, bathroom mirror, wall mirror, decorative mirror, the mirror, decorative wall mirror, custom mirror, towing mirror, antique, antique mirror, framed mirror, large mirror, bronze sculpture, wall sculpture, famous sculpture, metal wall sclpture, contemporary, copper sculpture, outdoor sculpture, fountain, fountain sculpture, steel sculpture, abstract sculpture, metal art sculpture, angel sculpture, sun sculpture, figurative sculpture, bronze figure sculpture, sculpture gallery, woman sculpture, sculptor, fine art sculpture, bronze, sculpture artist, outdoor garden sculpture, jewish sculpture, brass sculpture, steel, home lighting, lighting outdoor, landscape lighting, garden home lighting, copper lighting, interior lighting, decorative lighting, indoor lighting, bedroom furniture, patio furniture, patio, outdoor furniture, computer furniture, contemporary furniture, garden furniture, modern furniture, living room, bedroom, railings, gate, gates, gate iron, fence gate, dog gate, gate iron wrought, gate pet, driveway gate, gate safety, bridge gate, bridge, deck railings, stair railings, iron railings, aluminun railings, wrought iron stair railings, metal railings, balcony railings, steel railings, outdoor, ornamental, stairs, stairway, pool railings, deck patio furniture, american furniture, gallery furniture, custom furniture, rustic, american furniture, bar furniture, metal furniture, door steel, stainless steel, brass rail, rail, brass bed, bed, aluminum, aluminum fence install steel, aluminum fence, aluminum window, aluminum patio furniture, aluminum casting, aluminun fencing, cast aluminum patio furniture, cast, cast aluminum, aluminum railing, aluminum door, tables, table, door, elevator, construction, architectural, sculptural, stairs, metal stairs, railings for garden, garden desing, porch railings, fencing, columns, wrought iron, wrought iron gates, made to order, silver, sterling, copper, mild, damascus, +, original, unique, intricate, designer, designs, garden fencing, garden, patio, outdoor, steel gates, garden fencing, artmetal, metalart, metal arts, metal art, metal art sculpture, steel sculpture, metal furniture, metal sculpture,